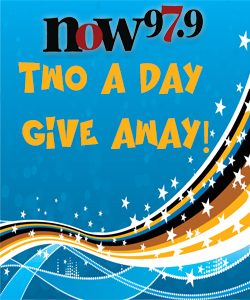 NOW 97.9's Two-a-Day Give-Away is your chance to win great prizes twice a day!
Listen weekdays at 10:20 and 3:20 for your chance to win concert tickets, Las Vegas get-aways, ski passes, gift cards, thousands in cash, and more!
Listen for the cue to call, be the 10th caller at 877-55-11-NOW and win!
The NOW 97.9 Two-a-Day Give-Away from Today's Best Music, NOW 97.9!