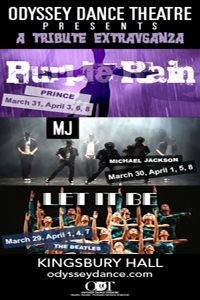 Odyssey Dance Theater rounds out its 23rd year with its popular Shut Up & Dance series and we've got your tickets!
Enter NOW for your chance to win a pair of tickets!
This season it's a tribute extravaganza featuring  Let It Be – the Beatles Anthology,  MJ – the music of Michael Jackson, and Purple Rain a tribute to the late, great Prince!
Enter today for your chance to win.
*Winners will be notified by e-mail.  Prize tickets are for April 4, 2017, "Let It Be" show.