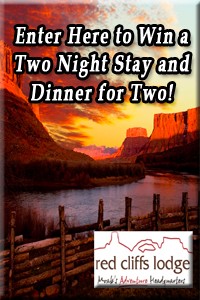 Enter to win a two-night stay and dinner for two at the Cowboy Grill.
While the West is known for its rugged landscape and hearty adventures, staying at Red Cliffs Lodge is anything but primitive.  Every room at Red Cliffs Lodge has a soothing view of either the Colorado River or Castle Creek.  The scenery is both spectacular and private.
Each room and suite is designed to capture the hearty frontier spirit of the West with solid log furniture, knotty pine accents, and muted stucco palates.
Enter NOW for your chance to win!