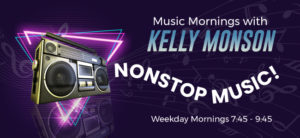 NOW 97.9 with more music in the morning and NOW two hours commercial-free to start your workday.
Each weekday morning between 7:45 and 9:45 lock it into NOW 97.9 for two hours of Today's Best Music—commercial free.
More music in the morning and now the most commercial free music to get your workday started.
From Today's Best Music, NOW 97.9!