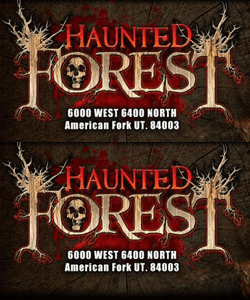 NOW 97.9 with your chance to win a four-pack of tickets to the Haunted Forest!
Fall is in the air and the Halloween Haunt Season is upon us!
Celebrating its 30th year of Scaring Utah, The Haunted Forest is Utah's Oldest and longest Haunted attraction!  It's a REAL forest, with REAL demonic spooks!  Get ready to howl at the moon under the brisk fall skies!  Walk thru over a mile of different haunted forest!  Come experience much more than a Haunted House—come explore the eerie Haunted Forest! There's no telling what you'll encounter at each turn of the trail!  This attraction has many Halloween familiar haunts, a few new surprises and a few you won't see coming!
Enter NOW for your chance to win!